Jason's working diligently on getting the Hawk crated.  Quite a process to build the crate however so worth it, as previous sculpture shipments like this have historically arrived safely. Knock on wood.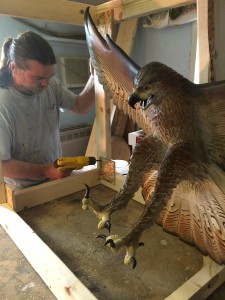 With another 48″ owl in process and a second in cue (in addition to other smaller sculpture orders), the studio will be a busy place over the next month or so.
There is also additional excitement outside the studio… and under the pines at our house where the second round of shiitakes are blooming – in larger quantities than we expected.  Pretty cool.  We decided it's time to take this a bit more seriously and label the logs.
Can't wait to get more of these logs inoculated come Spring 2017.
~ TT